Philippians 4:5
Scripture
Observation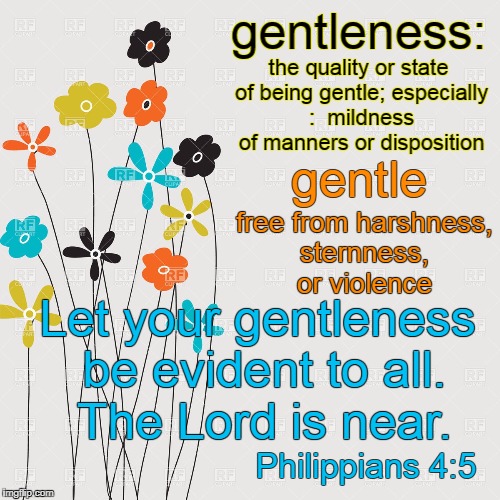 So, Paul is saying, be free from harshness, sternness or violence toward all. I wonder if he is thinking of the two women who were quarreling?
Application
Oh my! In a past life I was so harsh and stern! All that ugliness in me was simply a survival tool to hide the hurt and pain. My attitude was, "I will hurt you before you hurt me."
I can still fall back into that state, but not very often indeed! It's a miracle of God that my spirit is now more gentle. Praise Him for the slow, gentle work He achieves in our lives!
I wonder if our gentleness increases as we become increasingly aware that "the LORD is near?" I believe so! That is the only way I could be so drastically different!
Prayer
Oh LORD, thank You for this verse! I truly believe that Your faithful presence in my life has slowly and gently peeled away my layers of harshness and sternness. You have wrought in me a new Spirit! Thank You!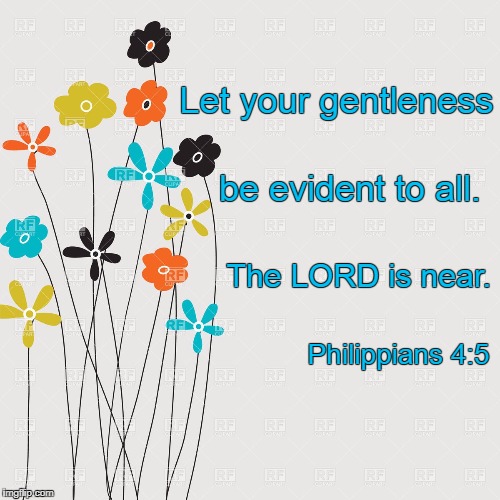 Prayer Shawls
I attend a cancer support group it's called Cancer Care that meets in a church. At the same time we are meeting, a wonderful group of ladies meet to crochet/knit prayer shawls. Every first time attender of our group get to choose a prayer shawl for themselves! I have decided to support this wonderful cause and here's the first shawl!
It went from this:
to this in less than a week!
My pattern is from The Crocheted Prayer Shawl Companion. This book offers many different shawl patterns for all skill levels. I used about 8 oz. of a Red Heart yarn from my stash and a "K" hook.
I decided to use this yarn to make another one for my recently diagnosed friend.
It's a good beginning, don't you think?
Here's a close up:
The pattern is quite simple, yet so elegant!
Last Week's To Do Tuesday
- Keep up with Quilty 365
Done!
- Finish Scrappy Squares Baby Quilt
Done and off to my daughter to quilt and bind!
Isn't she doing a fantastic job!!!
- RSC 2017 - yellow squares
Done!
- Finish hand quilting two more blocks of Panel Baby Quilt
Done!
- Continue working on prayer shawl
Done!
- Continue working on donation prayer shawl Done!
This Week's To Do Tuesday
- Keep up with Quilty 365
- Covered in Love/Crafty Cop Quilt Blocks
- Drunkard's Path: Pick layout, do the math, begin cutting fabric
- Around the House finish quilting (if not done already) and binding
I'm linking up to: