Simply Wonderful.
This weekend was wonderful.
Was there pain?
Yes.
Was there fatigue?
Yup.
But
I discovered a brand new quilt shop.
We celebrated my dad's 85th birthday with
delicious food,
romantic music...Sinatra, Cole...you know...
I slow danced with my husband as he serenaded me and whispered sweet nothings in my ear.
I got to see my newly engaged sister glow with happiness and love.
My cousin and I were able to have a heart to heart and maybe begin again....
And that was only Friday and Saturday!
There's more!
Sunday we had a small gathering today to celebrate more birthdays.
I got to play and even sew with my grandbabies.
We had fun conversations
and a tea party!
My granddaughter asked if she could work on one of her two UFO's!
She's only five but she already has a small stash and two UFO's at "Ama's"
house!
(That's what they call me. It means love in Spanish.)
And I even got a bit of Slow Stitching in!
God is good.
Even in pain.
Even when exhausted.
Even when there's family fun, love and sharing.
My cup runneth over.....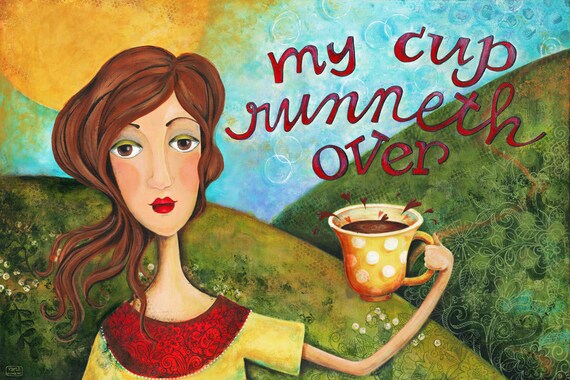 https://www.etsy.com/listing/229772254/my-cup-runneth-over-psalm-23-art-print
Slow Stitching Sunday.
I made progress on my Grandmother's Flower Garden! How lucky I was to be able to piece the red flower, a white flower, and some white "spacers". Next week I believe the Hello Kitty flower will join in the fun! :)
Thank you!
Thank you for reading this blog. I know we all live full active lives, so I deeply appreciate everyone's views, encouragement and support! You are the best. Thank you!
http://www.birthdaydirect.com/tinker-bell-thank-you-notes-p-38155.html
Dear Friend, this is my truth!