Philippians 4:3
Scripture
Observation
Paul is asking a mystery companion to assist in the reconciliation of these two ladies.
Application
I wonder....if I was one of these two women, what would I do? How would I feel after hearing Paul's plea?
In a church we attended when my kids were teens, there was a time of contention between myself and anther person. The conflict was regarding our kids.....
At that time, the mama bear in me was roaring to fight and defend my kids....
To this day I stiffen at how the whole situation was handled by our pastor.
Sure there are times when we are wrong and must take responsibility and ask for forgiveness. But...what if we are the ones wronged?
First and foremost, God's Word and His work i
n me led to a new maturity.
The book,
A Tale of Three Kings A Study in Brokeness
by
Gene Edwards helped me through this time. Mr. Edwards' work helped me to heal and grow in grace.
Finally, the slogans of a 12 Step Program have helped.
We who make up the church are only human.
We will hurt others.
We will be hurt.
LET US NOT BLAME GOD FOR THIS!
He is not human and His heart breaks to see these situations!
If we hurt others, let us seek forgiveness and reconciliation!
If we have been hurt, let us seek healing and forgiveness.
Let us remember: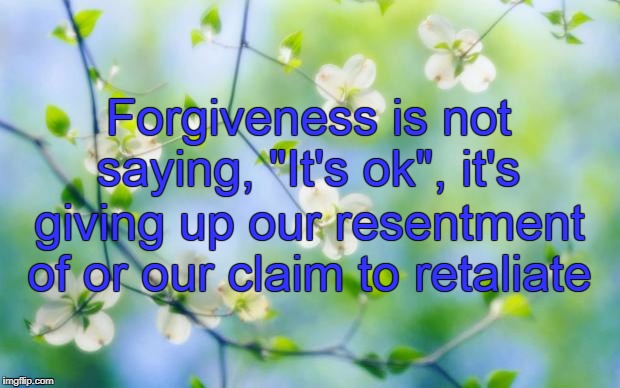 Prayer
Oh boy, LORD! That was a tough trip down Memory Lane! Thank You for showing me how You have worked so diligently and deeply in my life! You have brought me so far!
Those times still bother me, but I now know that if I were to see those people again I could genuinely smile and greet them with Your love and concern for their welfare! That in itself is a great miracle!
Thank You my LORD and Savior! Bless those who are hurting/have hurt others. Bring unity and healing to our country, hurting people and especially in our churches.
I love You so, LORD! Thank You for loving me - even when I wasn't very lovable!
Amen.
To Do Tuesday
Last week's To Do Tuesday
1) Keep up with Quilty 365
Done!
See the Smilies on the black circles? Here's why!
2)
Finish hand quilting two blocks of the Panel Baby Quilt
4)
Continue working on Patrick's Strength.
Done and finished!
I made his afghan a bit narrow to accommodate his hospital bed. I'm hoping to get in the mail this week! Yea!
This week's To Do Tuesday
- Keep up with Quilty 365
-
Finish Nicole's Squares Baby Quilt
-
RSC 2017 - yellow squares!
-
Finish hand quilting two more blocks of Joe's Baby Quilt
- Continue working on prayer shawl
- Continue working on donation prayer shawl
I'm linking up to