Philippians 2:23
Scripture
Observation
Did you notice something? Paul is waiting to send Timothy until he sees how "things" go with him - to see if he will live or die. (Remember, that is the decision he is waiting for while writing this letter.) He needs Timothy at his side right now.
Application
Paul is taking care of himself by keeping Timothy with him until he knows his own future. Self-care. That's wisdom.
I've been struggling with that lately! It's really not surprising! I'm finally feeling more and more normal after chemotherapy! (The effects of this life saving treatment are long lasting and take time to recover from!)
Paul has reminded me that

I need to learn how much I can feasibly accomplish in one day without ending up like poor Spongebob!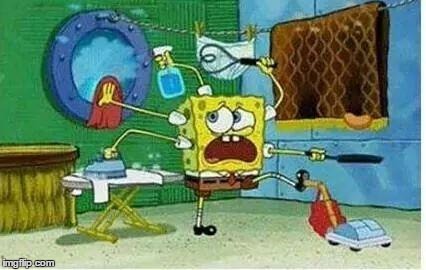 On a side note, This verse is going straight into my "Verses" app on my IPhone! Denise Panter from Count It All Joy! told me about this app that helps us memorize Scripture! It's so much fun and useful! I encourage you to try it!
Prayer
Thank You for giving me an "anchor verse" to make this change in my life. You and I both know it's been hectic - fun - but hectic! Help me to live as You would have me live! I so want to serve You and minister to other so badly, but I certainly need Your guidance.
I am praise You for the many friends, family and ministry opportunities You have given me! Thank You for giving me the abilities to pay it forward! Life is good!
Another Crochet Project!
I thought you may be tired of seeing the Hexagon Afghan all the time, so I wanted to share another crochet project that I'm working on!
https://yarnutopia.com/2015/05/20/
crochet-tutorial-granny-square-cardigan/
I saw it on Pinterest and immediately pinned it to my "Next!" board! Nadia provides a great tutorial here at YARNutopia by Nadia Fuad!
It's so easy! Basically, all you do is crochet a 41" granny square, fold it, sew the arm seams and wala! Instant glamour!
Here is my progress thus far:
I'm using Yarn Bee's Diva Sequin in Deanli and an "H" hook.
Thus far, I've used one skein to crochet
to make a 22" granny square.
It works up beautifully, don't you think?
What To Do?
I'm enjoying the RSC 2017 so much! Believe it or not, I've been preparing for it since the Fall of 2016! I decided to combine my RSC with another goal: to make a strip quilt.
So, I cut off 2-3 strips from most of my fabrics, organized them by color and eagerly awaited January's post from soscrappy! Here's something really cool that's happening - I am getting these tiny little 4" squares as more scraps! Aren't they the cutest ever?
Not sure what I'll do with them....
a mini quilt as part of the backing?
What do you do with these cute little squares?
To Do Tuesday
Here's my list from last week:
2) Keep up with my Quilty 365 - DONE!
This one took all week to catch up on 122 squares, but it's done! Yea!
3) Add two hexagons to my Hexagon Afghan
4)
Turn my Simple Scrappy Sampler into a at least a 50% flimsy. My goal is to have it into a real flimsy, backing finished and turned into the quilter by the end of the month!
The rest of this list will be this week's goal!