Hello and a Health Update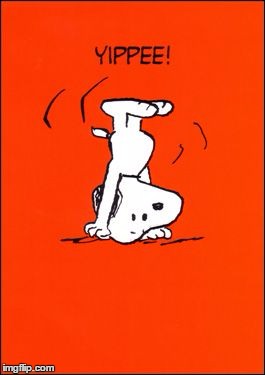 I'm feeling my strength finally returning
15 months after my last radiation treatment 16 months (I think)
after my last chemotherapy treatment!

My last blood work (the C125) was great
So, I'm happily taking back my life!
that I am not superwoman -
as one dear friend reminded me!

I did develop cataracts in both eyes, however.
My ophthalmologist said it was due to one of the steroids I had during chemo. Surgery is on the 20th.
At first I was bummed out -
when would cancer stop taking from me?
and then my wonderfully wise daughter said this:
This is a gift of cancer!
You're getting new eyesight!"
Philippians 2:12 Part 4/4
with fear and trembling.....As a new believer, that phrase always bothered me.

My spiritual mom told me that it didn't mean fear as we know it. It means respect and awe. I read in The Layman's Bible Commentary that it means "seriously and reverently".
I respect Him and want to have a deep relationship with Him!
Oh, the list goes on and on!
because He strengthens me!
He Himself will strengthen me,
He will use others to minister -
and dear friends and family.
joyfully work out my salvation
especially on this Valentine's Day!
LORD, I love You! I know You created me to love me, to have a relationship with me. Wow! How amazing is that!? Help me to honor You, to love You and to serve You. Strengthen me to do Your will!
the meaning of this verse,
through my inadequacies and
bring understanding to others
are my most treasured relationship.
Happy Valentine's Day, Abba!
It's been a while since my last "To Do Tuesday" list! Here was my last one:
-
Support my friend as she supports her childhood friend and her family.
This is ongoing.
- Finish cutting and piecing the blocks for the
Simple Scrappy Sampler
.
Done!
- Add at least 40 hexies to my

Hexagon Afghan.
Done!
- Make my RSC Blocks.
Done!
UPDATE 2/15/17: I was insprited by LeeAnn at Not Afraid of Color's tutorial!
To Do List for 2/14/17 – 2/24/17
Around the House Embroidery
My Tree Skirt - cut out the fabric
Clover and Violet QAL – cut out the compensating sashing and attach them to the squares
Alter blouses. I know they look like summer tops! The weather in Southern New Mexico ranges from highs in the upper 40's - the upper 70's!
Add 30 more hexies to the afghan (I've pulled them out so that I can make sure I do this!)
Check out Kathleen's blog!
Let's support her parties!