Saturday's Song: Everything He Forgot
This song spoke to me on so many different levels…
I have sinned.
I have disappointed people.
I have hurt others.
I have…I have…I have…the list goes on and on.
If I let myself,
I can go to a
dark place of
unforgiveness and depression
over my mistakes.
But, praise God for His grace and for repentance!
A simple
Google search
of "God forgets our sins Scriptures", leads to many results. One of my favorite verses is this one: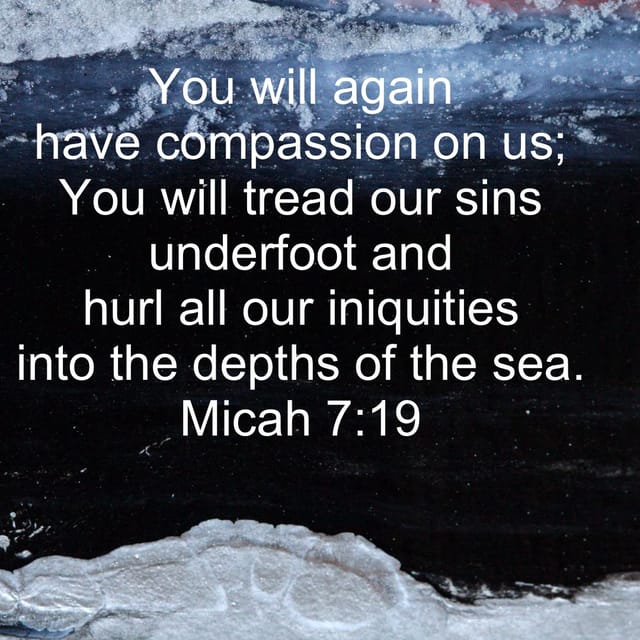 Can you imagine God – the very God we serve -
literally hurling our sins in to the depths of the sea?
Not throwing them, but hurling them.
To me this implies a great emotion!
I wonder what God feels as He hurls our sins into the sea? Victory? Sadness? Joy in forgetting? Joy in forgiving?
Also, He doesn't just hurl them into the sea,
but into the depths of the sea.
Not many items can be recovered from the depths of the sea.
Should other people choose to go there,
pull them out of the water
and throw them in our face,
hurling those same sins into the depths of the sea.
Should we ourselves do a deep dive,
let us again,
remind ourselves,
hurling those same sins into the depths of the sea.
Easier said than done. I know. But, let's try.
Another Scripture that really taught me the magnitude of God's grace is Psalms 103:11-12.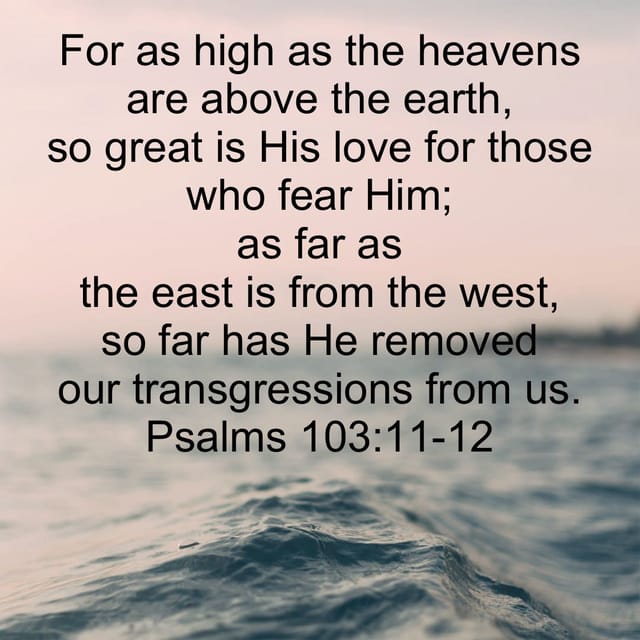 The east and west eventually meet up,
thus everything in between,
which is literally everything that has been forgiven
Let us work towards halting the remembrance all that God has forgotten.
Slow Stitching: 30's Table Topper
I thought this was going to be a baby quilt, but after stitching on it for a while, I've decided the yellow sashing lends itself perfectly as a spring/summertime Table Topper! Have you noticed I'm in a table topper sort of mood?
This little tool is so perfect! All I need is my quilt, this tool and a nice cool drink to enjoy slow stitching today!
UPDATE: A reader asked about this "tool" so I did a quick search on Etsy for "wooden sewing caddy" and I found one similar at
this
website.
I'm looking forward to using it!
Progress continues on my days of the week dish towels. Thursday is finished and here comes Friday!
Stash Report
Lately the topic of our fabric stash has been on my mind.
This all started while I was
wandering in a fabric store.
I was inspired by a customer's comment: "I never buy fabric unless I have a plan to immediately use it right away." Hmmm.....
I decided to try her idea out when I purchased
my fall fabrics
. and really enjoyed working with it while I was still at that
"love at first sight" stage!
The table topper is almost ready to go to my quilter and I'm coming up with ideas for more ideas to use the remaining fabric.
My curiosity about our stashes continued after I saw this short video by Sherry @ A Quilting Life. I was pleased to note that I already follow a lot of her tips.
As projects near completion, I'm replacing and even adding to my solid fabrics. Besides filling up the "crayola colors", those in between shades are finding their way into my stash as well. My daughter and I are enjoying having a bolt of our favorite background fabric - Bella Solid Off White - handy as well.
That said, here is my Stash Report:
Fabric in
This week: 5.06 yards
Since April 1: 74.06
Fabric Out
This week: 0 yards
Since April 1: 105.13 yards
Difference: + 31.07
Yarn In
This week: 0 ounces
Since April 1: 56.80 ounces
Yarn out
This week: 0 ounces
Since April 1: 87.50 ounces
Difference: +30.70
I'm curious:
Do you have a fabric stash or do you buy as you go?
How do you build your fabric stash?
What do you do with your scraps - store them or use them right away?
I'm so eager to read and learn about your personal "stashing style"!