Philippians 1:20
Scripture:
I am seeing another transitional sentence
here.
Paul is preparing to share a deep inner and spiritual struggle.
This one obviously weighs heavily on him.
But, instead of jumping ahead, let's look at how he introduces his struggle in verse 20.
of
eager expectations and hope!
of not being ashamed in any way!
Of having sufficient courage!
So that whether his lives or dies,
Christ will be exalted in his body!
Let's slow down and simply look at verse 20a
what does he think he may be ashamed of?
The next few words answer the question:
Paul was facing a possible death sentence for sharing the Gospel. He certainly needed strength and perseverance
that he would have this courage!
The prayers of the saints!
So, when "all" we can do is pray –
So, when "all" we can do is pray –
I just now came up with that acronym! Pretty cool, huh?
LORD, You know what is going on in my life, in my family's lives, in my dear friends and loved one's lives. I ask You now in the name of Jesus, to be with each person blessing them, giving them courage and eager expectation and hope. Let them know that You are in control, that You will work all things together for the good, that their – and our – prayers are effective.
Rejoice with them,
my LORD.
I will soon be celebrating my one year anniversary of the completion of treatments for Triple Negative Breast Cancer.
For the next year, I believe this song will be my anthem.
Perhaps it will be yours as well.
There is so much more in my heart to share on this topic.....I am eager to share with you,
and just maybe
encourage other cancer patients, survivors and their loved ones!
Quilty News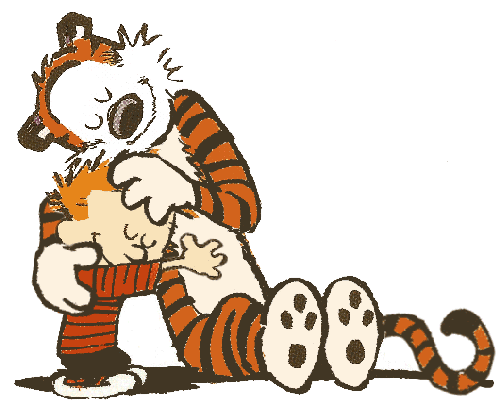 http://giphy.com/gifs/comics-calvin-and-hobbes-tshNC0GoX79Re
This week has been so very full of joyful events!
Yesterday was especially fun as I got to spend a whole day with my dad!
We haven't had a WHOLE DAY together since before my diagnosis in November of 2014! We laughed so much that my cheeks hurt!
There hasn't been a whole lot of sewing, but instead a ton of planning.
I have chosen the fabric and background fabric for a quilt I'm making! And, I have the sashing in mind as well!
And my daughter made these 8 squares for Covered in Love!
Dear Friends, this is my truth!