Philippians 2:13
Scripture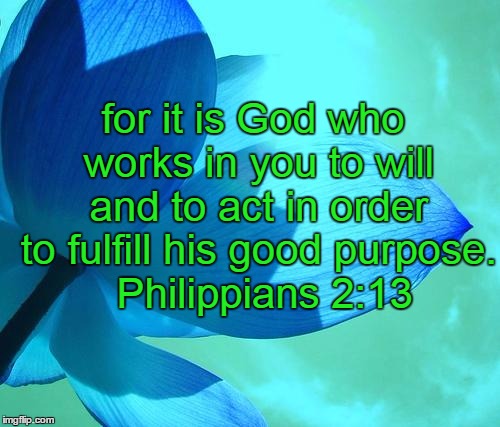 Observation
Isn't this awesome! It is God who works in each of us to want to act in order to fulfill His good purposes!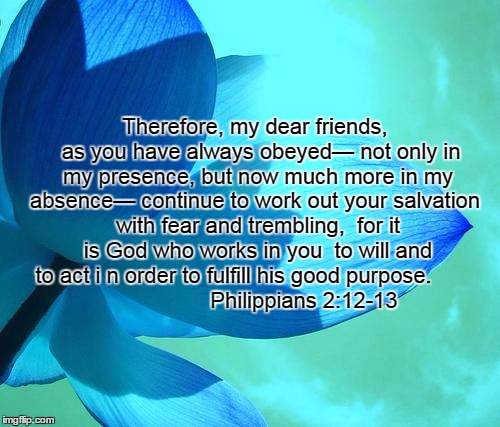 Application
Therefore,
His precious one, remember, your salvation and relationship with God doesn't come solely from acts of goodness for our world.
It comes via many factors.
The ones that come immediately to mind are, for me, the most important:
1) by faith in Him,
2) by listening and obeying His voice
as He guides us on this wonderful journey of creating and developing a loving, trusting relationship with Him.
Prayer
LORD, to be honest, it was hard for me to build a loving, trusting relationship with You. As You well know, life had handed me plenty of lemons via
many forms of abuse and diseases. But, as I sought You with a heart that was
hurt,
angry,
sad,
confused at Your will,
confused at free will You have given us,
I realized You never abandoned me.
YOU WERE RIGHT THERE AT MY SIDE.
Sometimes You were weeping.
Sometimes You were rejoicing with me.
Sometimes You held my hand.
Sometimes You were quiet,
And even when I reacted poorly,
I have learned to forgive.
You persistently brought this song
until I really heard it.
You played it on the radio
every single time I started my car.
You made sure I heard it
over and over.
Thank you.
Today,
I am free.
I am grateful.
Leader Ender Quilt
Ok...So I was all excited because I thought I had finished my leader/ender blocks.....No, I hadn't. I simply misplaced them......Grrrrrr!
But...I have gone from this
to this!
UPDATE: Thank you, Nancy, for your comment! I randomly placed these blocks on my current comforter to see how they would fit on my bed. I'm planning on using a beige on beige background fabric! :)
And I need to piece 21 more!
I should have enough for a
Ye
a for leader/ender projects!