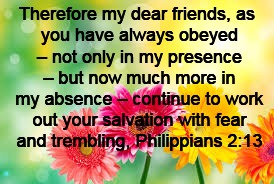 Working out our salvation is a continual , lifelong process. But, looking at the King James Version, I can see this is also an individual process as well.
In my last post, I wrote about detaching
from our loved ones
regarding their salvation.
It is only as individuals
that we can make the decision to
individual and personal process.
In realizing this, my prayer life has become almost "without ceasing" for my love ones.
I guess the King James Version
"…work out your own salvation…"
I'd always heard this quoted,
Our own salvation.
giving up telling others about Christ,
or being silent when it comes
to my loved one's relationship with God,
Though their relationship with Christ is
very much out of our hands,
prayer, faithful and gentle sharing
is powerful my dear friend!
our lifestyles speak for themselves.
and we will because we are human,
those around us will have the opportunity
to see the grace and mercy
of what a great God we serve!
How I appreciate the gift of salvation!
I also am so grateful for Your guidance
Help me to gently introduce You,
that would let people see You in me.
This is my truth!
Mason Jar Meals
There was quite a bit of interest about Mason Jar Meals from this post. I want to state up front that I have no idea where this idea originated, but I will send hugs to the wonderfully intelligent and creative person who did!
I will try to provide three sources of info for you each time I post about Mason Jar Meals.
1) My posts will
will have a link to my Pinterest Board, Mason Jar Recipes. Here you will find all the resources I have implemented.
2)
You can also click on the "Mason Jar Meals", label on my blog sidebar to read past and future posts about this new (to me) healthier way of eating!
3) A couple of ladies had great questions which I answered in the
comments section
as well as emailing them.
Now, moving forward, here is the picture I first posted:
I totally cleared out the shelf for
1) the picture
and
2) to make room for the jars!
On the far left of the picture is the Overnight Oatmeal which my daughter loved instantly.
Since then, my son and husband are also loving them. The recipe I used is in this post.
In the middle of the picture are the vegetable salads we made - totally delicious! The feta cheese held up well! As I said before, the greens were about four days in my fridge before we made the salads. They still tasted fresh after four days in jars.
On the far right of the picture are the fruit salads made from a mix of frozen/fresh fruits.
This is the veggie salad on day four. As you can see, just a tiny piece of lettuce was a bit wilted, but remember, it had been living in my fridge for four days as well.
Here is it after adding some left over pork tenderloin cooked with
balsamic
dressing.
Here is my fruit/nut salad. It's a great snack that satisfies my sweet tooth!
and answer your questions!
I've been busy this week with grandbabies, the Super Bowl and taking friends to doctor appointments. Thankfully, on friend is doing well. The other....well, she is preparing for chemo....
But she is a fighter and we laughed a lot today! :)
Here is what I've been working on.
My Hexagon Afghan has grown. I realized I would need more hexies. Thankfully, Jo Ann's still had the same yarn or a suitable sub. Now, I have no idea what the final shape will be....I call it my Hexagon Afghan because it's made from hexagons!
it sure is a strange shape!
One great thing about crocheting
is that it's very flexible!
UPDATE: The pattern can be found here.
The only change I made was
crocheting a single crochet border
around each hexagon. :)