in his usual style of writing in absolutes
made this act of character development clear:
the act of complaining in a low voice
Application
Even as I write about this verse,
I find myself wanting to grumble!
are how I've grumbled about
the little acts that irritate me.
They are too meaningless to even list.
after teacher staff meetings or
when new demands were announced,
and I've begun to regret that.
Lately, I've been thinking about
how those grumbling times were
Circumstances were out of our control!
We could have been coming up with solutions instead!
Then, I read today's verse: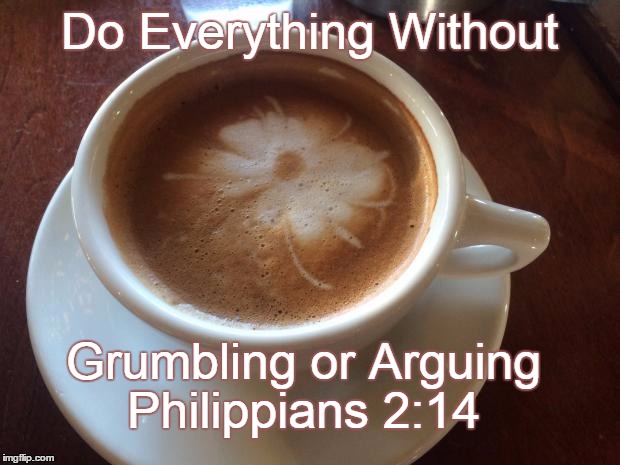 The irony that the reference
numbers
, 2:14,
as the date of Valentines Day
I noticed something else.
Something to really ponder.
Surgery Update.
I'm getting better and better after cataract surgery! I'm seeing so clearly now and back to sewing! Yea! Here's a little something I crocheted while recovering!
Mason Jar Cosy
Did you see this coming when I started posting about Mason Jar Meals?
http://littlemonkeyscrochet.com/mason-jar-cover-free-pattern/
This free crochet pattern for mason jars is from Little Monkey's Crochet. I chose it because the pictures are so pretty! Additionally, it is a very easy beginner pattern! Plus the pattern covers sizes for quart AND pint size jars! Win-win! Seriously, stop by and check out her blog!
for such an awesome pattern!
Here is the one I made!
More may be in my future!
Great use of the bit of leftover yarn
I use the cover for both the Overnight Oatmeal as well as the hot soups! You can find the recipes, as well as this pattern my Pinterest board.
Speaking of Mason Jar Meals....
This is the third week my daughter and I have been enjoying mason jar meals. I've learned a few lessons that I want to share with you.
Mason Jar Salads
I stopped adding salad dressing to the salads, instead adding it after I pour it into a bowl.
Since I eat my salads at home, it's easy. For some reason, the taste of the salad dressings seemed to overwhelm the fresh veggies.

My daughter continues to add dressing to her jars and loves it! Personal preference! :)

I'm cutting up the extra celery, carrots and bell peppers as a quick snack.
Overnight Oatmeal
These are my favorite! I am using frozen fruits because they seem to hold up better.
Plus, as they defrost, their juices add to the yumminess!

Adding a sprinkle of ground cinnamon, nutmeg and/cloves adds an extra taste of goodness!

Cooked barley works as well!

Quaker oats has this link for recipes!
Mason Jar Soups
I started experimenting with soups about two weeks ago and am really liking them!
Deciding how much and

which soup base to use is definitely a Golddilock's type of journey.

The first week I added about a teaspoon of Better Than Bouillon base to a pint jar. It was way to much for me.

This last week I added a smidgen with some Consomate de Pollo by Knorr(chicken

bouillon). Not enough spices......oh well. Next week will be "just right", right? :)
I am eating a TON more fresh produce and even buying more!
I finding Mason Jar Meals an easy, healthy way to prepare meals for the week. This works wonderfully for people who work outside/inside the home!
I encourage you to try them!