Philippians 2:5
SCRIPTURE
How can we achieve the sometimes difficult goal of living out JOY?
Thank goodness Paul gives us guidance in this verse:
Have the same mindset of Christ Jesus.
As we recall, Paul is referring to dissension in the church at Philippi. However, this can also be applied to our daily life at home, at work – in all our relationships.
Remember Philippians 2:1? It's not
hard to achieve unity:
If you have
any
of these it can be done.
Crawling leads to walking,
the mindset of Christ Jesus.
I must say this, however. Putting others' interest first DOES NOT mean being a doormat and solving their problems. If it's not in your back yard, it's not your problem. There is a fine line between being a servant and being an enabler. Be cautious.
That being said, if each of us (Philippians 2:4) are looking out for the interests of others, we are in fact taking care of each other.
I'm so grateful Paul goes onto provide much needed guidance regarding this mindset.
Dear Friend, this is my truth! :)
Guess What?!!!
OH
MY
GOSH!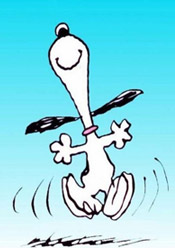 I'm am so flying high!
I was featured for the first time!!
Can you hear my squeals of joy?
Can you see my dance of happiness?
Hmmm! It's probably best you can't see that one! :)
My daughter asked me to please write a tutorial for these, so I will be doing that soon!
Then, today I saw that Beth from

Cooking Up Quilts mentioned my

Pinwheel Quilt!
I am beyond excited about these happenings! Thank you so much Susan and Beth! Thank you!
I am in the process of writing a rather ambitious 2017 craft goals. One way I plan to complete these lofty goals is to link up to
One Monthly Goal
hosted by
Patty at Elm Street Quilts
. I'm hoping to finish a flimsy a month and get it to my cherished longarm quilter. This month I missed the link up deadline, but I'm still presenting my OMG!
Without further ado, here is my One Monthly Goal Quilt!
Well, if I squint and use my imagination, it looks like a real quilt! :)
I started this
Clover and Violet Simple Scrappy Sampler
back in 2014. The blocks are made from a combination of Happy Tones distributed by Michael Miller and a variety of white on white fabrics.
After making these few blocks, I was diagnosed with Triple Negative Breast Cancer. Then my focus was on surviving chemo and radiation.

I'm back on the saddle and raring to ride and finish the many UFOs me and my chemo started and forgot about! So, 2017 is my year!
clearing out our UFO's in 2017!