Wednesday's Word: Song of Songs 3:2a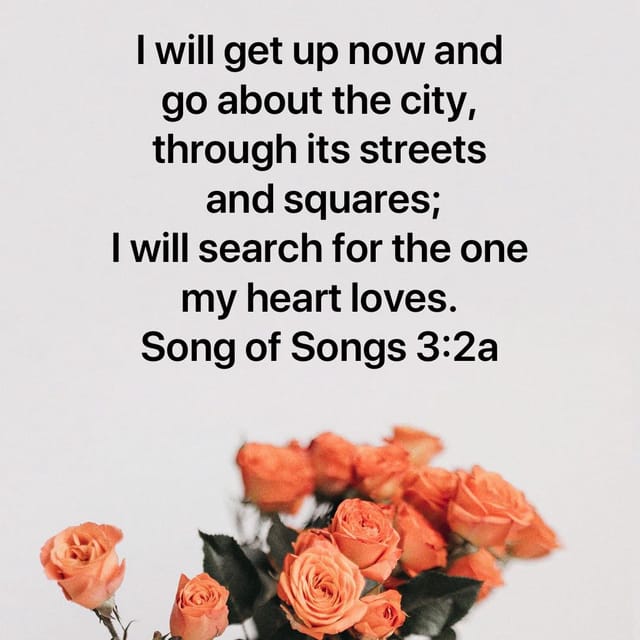 In this book, Sofia and Ludwig speak different languages. All they have is their Bibles and basic drawing skills to communicate. He/she would find a passage that explains their thoughts and share that passage with the other. As their time to separate nears, Ludwig shows Sofia this verse to reassure her that he will find her.
This made me think: What if all we had to communicate with our loved one were verses from the Bible? In fact, what would happen if all we had to communicate period was the Bible? As for myself, I would be in the Word much more than I am now! It would be my lifeline to communication!
But then again, isn't that way it's supposed to be? Are we not supposed to have His Word on our hearts all the time? I was reminded of this this weekend:

Hear, O Israel: The Lord our God, the Lord is one.
Love the Lord your God with all your heart
and with all your soul and with all your strength.
These commandments that I give you today
are to be on your hearts.
Impress them on your children.
Talk about them when you sit at home and
when you walk along the road,
when you lie down and
when you get up.
Tie them as symbols on your hands and
bind them on your foreheads.
Write them on the door frames of your houses and
on your gates. Deuteronomy 6:4-9
Lord, help me to live this way!
Wednesday's Wrap Up Or Not
I did finish Month 9 of the Stitcher's Garden, but am going to make it again. The petals on the larger flower seem off to me. This block won't go to waste though! It'll either become a pillow or a tote bag! :)
While I was prepping this block's appliqued pieces and the rest of its parts, I went ahead a prepped a few more blocks. All the bits and bobs store nicely in one of the
project bags my daughter made me
!
For me, putting them together will be easier than prepping them!
I Like
It's Thursday which means it's time to link up to Lee Anna's I Like party in which we share whatever we liked this week.