Monday's Strength: Song of Songs 3:2
Continued study of some of the verses shared in Lynn Austin's Until We Reach Home.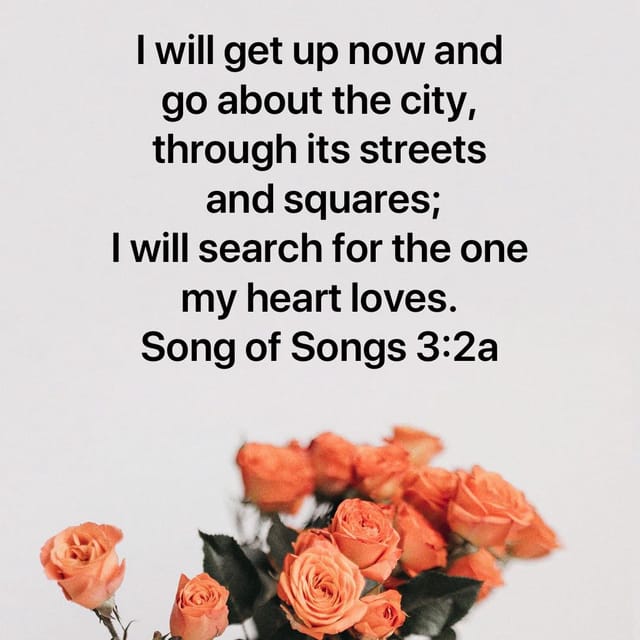 In this book, Sofia and Ludwig speak different languages. All they have is their Bibles and basic drawing skills to communicate. He/she would find a passage that explains their thoughts and share that passage with the other. As their time to separate nears, Ludwig shows Sofia this verse to reassure her that he will find her.

This made me think: What if all we had to communicate with our loved one was the Bible?
In fact, what would happen if all we had to communicate period was the Bible? As for myself, I would be in the Word much more than I am now! It would be my lifeline to communication!

But then again, isn't that way it's supposed to be? Are we not supposed to have His Word on our hearts all the time? I was reminded of this this weekend.
Hear, O Israel: The Lord our God, the Lord is one.

Love the Lord your God with all your heart

and with all your soul and with all your strength.

These commandments that I give you today

are to be on your hearts.

Impress them on your children.

Talk about them when you sit at home and

when you walk along the road,

when you lie down and

when you get up.

Tie them as symbols on your hands and

bind them on your foreheads.

Write them on the door frames of your houses and

on your gates.

Deuteronomy 6:4-9
Lord, help me to live this way!
Machine Embroidery
The Leather and Lace pouches from my Kimberbell Bella Box are finished. You can see a picture of them here. As for mine? Well, due to a comedy of errors, they are locked away in a stuck drawer until my hubby can help me release them!
I did manage to save this little one. Yes, I realize zipper is on the outside - that's because the locked up pouches have the cutest little lace zippers. (I did figure out how to avoid this for next time.) But, alas for now, here she is!
This project was done in the hoop - to include attaching the zipper! The only part done on my regular sewing machine was sewing up the sides, bottom and boxing the corners!
These pouches make me want to pick up their Take a Peek pouch CD!
Hopefully, next week, I'll be able to show you the Leather and Lace pouches!
More Progress on the 64 Patch Quilt!
Here is the first row all put together! The blocks measure about 8" so hopefully it will be a nice queen size!
And here's a close up. I used white sashing on this one.
Whenever I get to my Crazy Quilt, I'm planning to use black sashing. I've seen that on many quilts lately and want to give it a go.
Here is a close up of one of the blocks.
This has been my leader/ender project for some time. Sometimes it takes over as the main project! :)
Book Date
Finished
After watching the Netflix series, Virgin River, I decided to try the books in Robyn Carr's series, Virgin River. This series is nice to listen to in the sewing room or while doing household chores.
I like the setting and the characters, however the books are a bit predictable. I do find that I can skip a chapter and not miss too much.
Pressing On with To Do Tuesday
I press on toward the goal to win the prize for which God has called me heavenward in Christ Jesus. Philippians 3:14

Last Week's Goals
1. Visit Mama and Daddy. Oh! We had a great time! Right before I left for the long drive home, we picked up a variety of treats at Dairy Queen! We were such a sticky mess, but laughed and laughed! It's so rare that Mama really lets loose and enjoys life as she lives in constant pain from arthritis. She was like a little girl again. I was so happy. ✔
2. Machine Embroidery: My next two projects will be all in the hoop pouches with lace zippers! I'm a bit nervous about this one! ✔
3. Prep some more Qube Crush blocks! X Instead, I went through a box of scraps and got them all pressed and organized into precuts. Well worth it! Only one more small box to go!
4. Prep the next one/two Stitcher's Garden blocks. X
5. Continue my leader/ender 64 Patch Quilt. ✔
1. Visit Mama and Daddy via Facetime.
2. Machine Embroidery: Only two projects left in my Bella Box! I'll be making a little clasp purse, I hope!
3. Prep the next one/two Stitcher's Garden blocks.
4. Prep some more Qube Crush blocks!
5. Make progress on my husband's Christmas ornament and my hand embroidery.
I'd love to hear what your crafty goals for the week are!
It's Monday! What Are You Reading? @ Book Date
Monday Making @ Love, Laugh, Quilt
Oh Scrap! @ Quilting is More Fun Than Housework!
To Do Tuesday @ Home Sewn By Us (Tuesdays)
Your comments are so appreciated!
I read each one and will respond by email to you! :)