Jesus Asked It #12
Jesus Asked Series:

1

,

2

,

3

,

4

,

5, 6, 7, 8, 9, 10, 11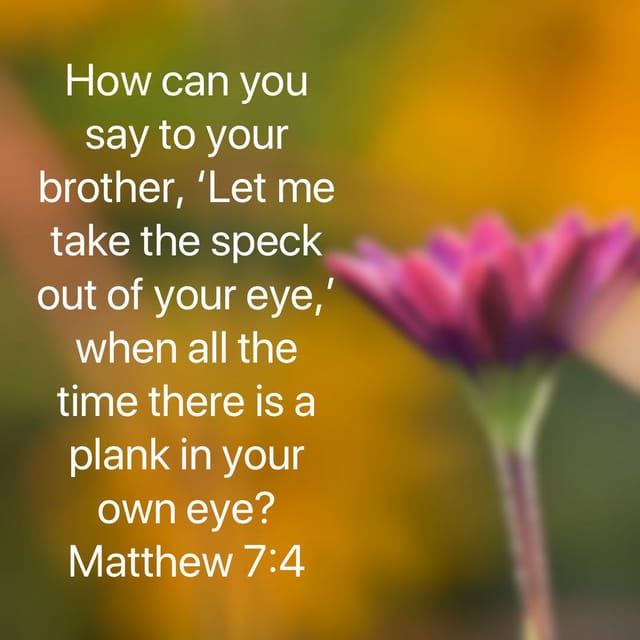 When I pulled up this verse, I almost went back to Jesus Asked It #11 to make a correction!
Look how similar the verses are! I hadn't noticed this before!
3
"Why do you look at the speck of sawdust in your brother's eye and pay no attention to the plank in your own eye?
Matthew 7:3 NIV
4
How can you say to your brother, 'Let me take the speck out of your eye,' when all the time there is a plank in your own eye?
Matthew 7:4 NIV
I went to my trusty Layman's Bible Commentary for clarification. I understood that as Christians we are not to judge others as a force of habit, but to use discernment in a loving manner and to make fellowship decisions for ourselves (a whole other topic in itself). I also understood that if we are taking our own "imperfections seriously, we have little time for judging others" (pg. 44).
How often do we ignore our own shortcomings - even if they are as large as a plank of wood and there all the while?
I am learning that there is a fine balance between judging others and becoming a doormat. This is where discernment and setting boundaries comes in.
I am learning to pray for wisdom in judgment and reactions to the actions of others which directly affect myself and my loved ones. I am also learning that boundaries are needed and healthy.
I am learning.
I Like Instagram!
In light of the mass shooting in El Paso, I have been largely offline except for Instagram. Here are a few of my likes:
Our friends....love us in spite of and are always there for us....
I had to look at this one carefully....
Inspiration for my future yarn stash...
I have to get through my current one first!
This is what my bed looks like after I make a grandchild in it and he slips out!
$7.50 Blocks
Two more blocks finished!
Just a few more and I should have two finished flimsies!


Linking up to
Your comments are so appreciated! I read each one and will respond by email to you! :)