Jesus Asked It #9

Jesus Asked Series:

1

,

2

,

3

,

4

,

5, 6, 7, 8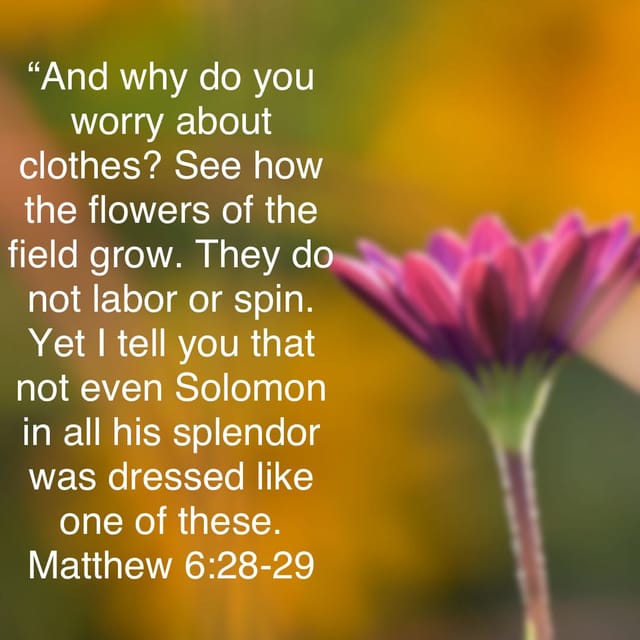 Ok. So this has happened to me several times. I have had to empty out my entire closet - twice. In doing so, I realized I had over 50 spring/summer tops - not to include sweaters, shawls and such to wear over said tops.
Seriously.
And that was just tops - I won't even discuss bottoms, skirts, dresses and such.
Before then how many times have I said, "I need clothes."
REALLY?
I realize Jesus was referring to clothes here, but honestly, how many little worries do we have that are already taken care of? How much time do I waste on such trivial matters?
Perhaps this is my wake up call to ask, "What is God really wanting me to pay attention to?"
In my heart, I have heard Him speak. And it has nothing to do with what's in my closet, but what's in my heart.
I, we, should pay more attention to His still small voice (1 Kings 19:12) as He gently calls us to grow in Him. That is where our real beauty lies.
Thursday's Likes!
Here are this week's likes for

LeAnna's weekly "I Like" link up

.
The next blocks for my Stitcher's Garden quilt will require rick-rack! Yea! I loved the colors my LQS carried!
I was at my LQS and fell in love with this pouch display:
Sadly, they were out of the pattern for the one I fell in love with....it sold out in 2 days!
And finally, I found these quotes in my photos from several years ago. Sadly, I do not have the source for them, but if you do, please send it to me and I'll give credit where credit is due! :)
$7.50 Blocks
Your comments are so appreciated! I read each one and will respond by email to you! :)