Jesus Asked It #2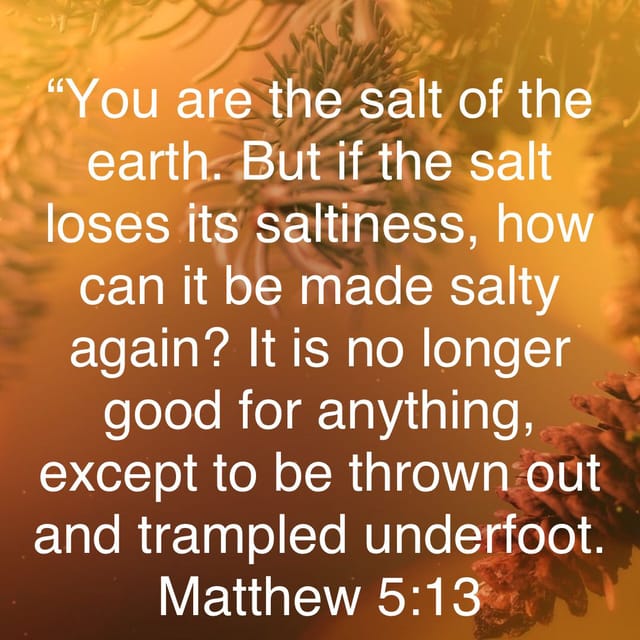 Jesus Asked It #2
From last time, we ended with this question:
If we lose our "saltiness" (purpose) or our light, how can we be made salty/filled with light again? Unlike salt, we can be redeemed.
My first thought as I wrote that question was this verse:
33
But seek first his kingdom and his righteousness,
and all these things will be given to you as well.
Clearly, after reading this verse in context, Jesus is referring to food, shelter and clothing.

Seek first His kingdom and the rest will come.
However, then, I have to ask myself, "How do we lose our light, our way, in Christ in the first place?"
Sin.
Therefore, how do we become restored to our Father and thus become "salty" again?
Repentance and receiving the forgive
ness of God.
If we confess our sins, He is faithful and just and will forgive us our sins and purify us from all unrighteousness.
1 John 1:9
1

Therefore, there is now no condemnation for those who are in Christ Jesus,

2

because through Christ Jesus the law of the Spirit who gives life has set you

a

free from the law of sin and death.

Romans 8:1
This brings me great relief, because how could I write this blog, testify as to the glory of God, and exhort those who are hurting to trust in Him if I am living under condemnation and unforgiveness?
To become salty again, to find my purpose again, I hope I remember to
1)
Seek first His kingdom and righteousness,
2)
ask God's forgiveness for my sins,
3)
receive His forgiveness and then, the hardest part,
4)
remember that there is no condemnation for those who are in Christ Jesus.
A New QAL!
Carol at From My Carolina Home shared about a foundation paper pieced project she was experimenting with. She asked her readers if we might be iteresting in a QAL....well....yes! So, I joined up, ordered the book, Cups and Saucers, and am ready to rock and sew!
UPDATED: I actually added the link! :)
Here is a list of her posts so far. I'm hoping to remember to update this list as we go along. Please feel free to remind me if I forget!
She shared what the quilt may look like as well as some basic instructions and tips. Wanna join us?
Here are the fabrics I'm planning to use:
-
Book Date
I wasn't sure about The Silent Wife by A.S.A. Harrison, but I'm really liking it! It's part of a challenge I joined: the 12th Annual Canadian Book Challenge hosted by
Melwyk at The Indextrious Reader.
My current ebook is Dreams of Falling by Karen White.
The Priest: Aaron by Francine Rivers was fabulous. I gained so much insight into how much Aaron and Miriam's life was affected by Jochebed's placing Moses with Pharaoh's daughter. I also gained so much appreciation for the responsibilities leaders in our church face.
You can see the list of books I've read over at
Goodreads
! My user name is, of course, Miaismine!
Linking up to