Philippians 3:1
Scripture
Observation
I'll list a few quick observations.
1) The use of "brothers and sisters" is a reminder: We are family!
2) We're reminded to rejoice in the LORD! 3)
Reminders can be good.
Application
1) When I first heard a member of my church call me "Sister", I was confused. Up until this time, I had only heard "sister" used in church to refer to nuns! When my trusted friend explained the concept of family of Christ to me, I was surprised. Over the years, I have come to count on and love my brothers and sisters in the LORD very deeply. What a true blessing this has been!
2) Remeber this chorus from Philippians 4:4?
As a young believer, this confused me. A Youth Pastor said something like this:
"Of course we don't praise God
strength and grace to get through it,
lessons we will learn from it and
the caregivers He provides."
We can and should try to rejoice in the LORD always because
His joy is our strength (Nehemiah 8:10)!
This can be challenging and it can certainly be a long process, but it can be done. We may need additional help to get there such as therapy, support groups or medication, but it is possible to rejoice in the LORD always - even if we rejoice through tears. I know this because I have lived it.
Let's remember to be loving and gentle with our brothers and sisters who are working on this process. Add to their joy, love them, pray for them, hug them. After all, they're family! :)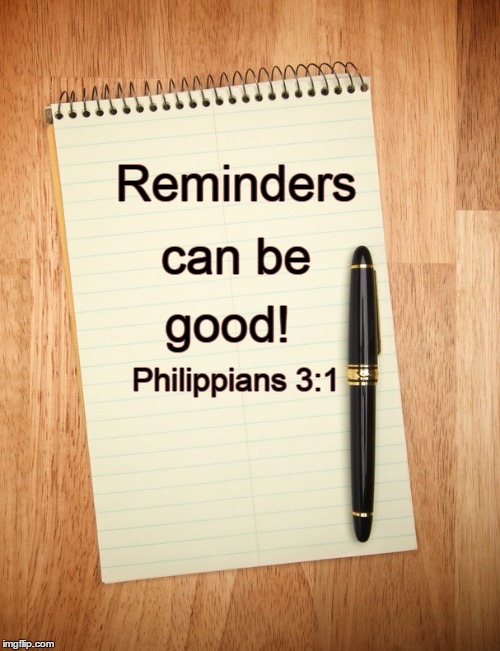 The last part of this verse is a reminder and Paul reassures the Philippians that he doesn't mind reminding them about lessons taught earlier. He also states that this a safeguard for them. Yes, I see you there, rolling your eyes! I am, too! :)
Between "fibro fog" and "chemo brain", you can be sure I get plenty of loving reminders from my family!
Oh, Abba Father, yesterday's post seemed so rambling to me, but I know You wrote it! Thank you for reteaching it to me this morning!
I have to remember to assume the best of others - mainly because that keep me from "stinkin' thinkin'" and the best is usually correct!
Today's verse really helps me to smile at the growth You've caused in my life! You've given me another family, have been teaching me how to rejoice always - even while weeping and to appreciate those reminders!
You are amazing! Thank You for giving me this blog, growing me and being oh so patient with me! In Your precious name, Amen.
Scrapbooking
I so admire those of you who take some bits of paper, stickers, journal cards, a few pictures and, most of all, your heart and create such lovely scrapbooks!
I don't usually make the "normal" scrapbooks I see online. My are my therapy during challenging times.
During one such time,
I wanted to express my journey via scrapbooking, but everything out there was cheerful and happy - the complete opposite of what I felt.
And then I found these books!
Imperfect Lives by Tara Govemo and
Scrapbooking Your Faith by Courtney Walsh. I love the "realness" of them!
And then, joy of joys! I found Project Life Scrapbooking pages! They look like the pages to hold baseball cards! And journal cards are decorated! Yea! And they were all on sale! Double Yea with a Dance of Joy!
via GIPHY
Now that I could handle! I'll be sharing pages as I go along! I hope you enjoy the journey with me! By the way, are any of you scrapbookers? Or are you scrapbooking challenged like I am?
Layer Cake Quilt.
It all started with a trip to Lancaster, Pennsyvania and a purchase of this fabric.
I loved it so much I purchased a couple more charm packs. Then I made the
Simple Scrappy Sampler by Clover and Violet
!
https://faithtrustandbreastcancer.blogspot.com/2017/04/philippians-228-part-1-simple-scrappy.html
There was enough fabric left to make this baby quilt!
https://faithtrustandbreastcancer.blogspot.com/2017/04/slowing-down-to-do-tuesday-another.html
I'm happily surprised to report that I still had enough random layer cake squares to make this lap quilt!
After this one is finished, so is my Happy Tones fabric - except for a very few stray scraps!
via GIPHY