Jesus Asked It #13

Jesus Asked Series:

1

,

2

,

3

,

4

,

5, 6, 7, 8, 9, 10, 11, 12, I have various Bible studies on my blog. I've decided to focus on one - the Jesus Asked It series. I hope you are enjoying it!

This verse is a tough one - giving our kids what they ask for.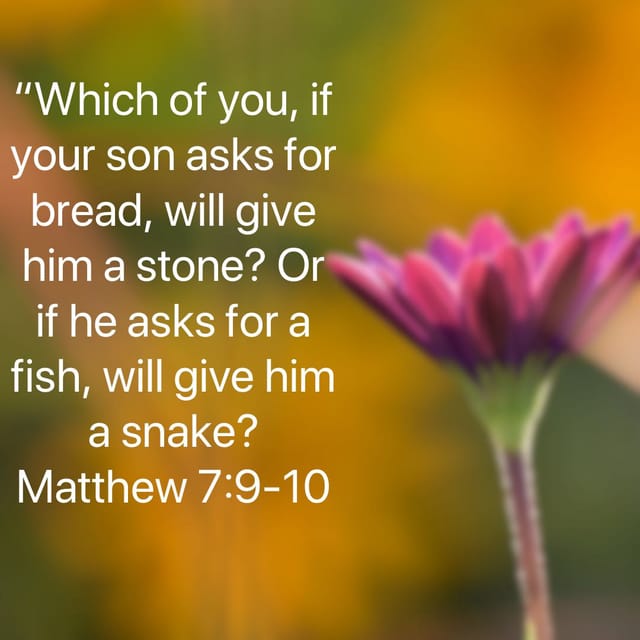 In context, this verse is saying that of course, when we seek the Lord and His will, He will respond with the appropriate answer.
7
"Ask and it will be given to you; seek and you will find; knock and the door will be opened to you.
8
For everyone who asks receives; the one who seeks finds; and to the one who knocks, the door will be opened. Matthew 7:7-8
I also read the Bible as a my own personal love letter from Jesus. I sometimes take it quite literally, such as in this case. In each alternative gift mentioned above, they were inappropriate (the stone) or even harmful (the snake).
My dear loved one, sometimes, when we see our loved ones suffering via their own decisions, we want to help, we want to rescue. But as I learned long ago, and am still learning,
when we get between our loved one and their pain, we get between them and God.
Sometimes, the best gift we can give is lovingly giving them the dignity to live with their own successes and/or failures. All the while praying that our Father in heaven will give good gifts to those who ask Him. Matthew 7:11
Believe me, I know how heart breaking this can be and my love, compassion and prayers go out to those of you going through this. I've learned and continue to learn that as long as I rescue, I become that person's God. I need to let God be God in my loved one's lives.
Wednesday Wrap Ups
This is kinda funny. I finished this quilt top, my LAQ did a fabulous job quilting it and then I bound it using a scrappy binding. But, did I take a picture of the finished product before I gifted it? Nope. Silly me. Anyway, here is the finished flimsy!
I also finished quilting Pat's quilt. As I mentioned before, Pat's mother-in-law pieced it, began quilting it, but passed before she could complete it. I was honored to finish it up for the family.
I machine bound it - a first for me.
Pressing On
Last time my goals were:
1. Visit Daddy and Mama. ✔
2. Continue to work towards a new normal.
✔
This appears to be changing every day. My health/limitations/successes change every day. Flexibility and acceptance are my new words.
This Week's Goals
1. Visit Daddy and Mama.
2. Write at least two blog posts.
3. Finish up this month's Stitcher's Garden block and finish up one "tardy" block.
I wonder, do you set weekly goals for your personal, blog and crafty life?
Check out these fun parties!
Your comments are so appreciated! I read each one and will respond by email to you! :)