Still Stitching #12 Part 3.
The pain is still there.
The effects of various types of abuse are still there.
But, I am doing the hard work to be a thriver:
Begin gentle with myself.
Forgiving those who hurt me.
Forgiving those who failed to protect me.
Understanding that man has free will.
Understanding and believing that all things work together for those who love Him and are called according to His purpose. Romans 8:28
I no longer ask, "Why me?" , but instead ask, "God, please use this experience to help me help others."
I no longer ask, "Where were You, God?" because He has shown me exactly where He was: at my side weeping.
I can tell you that every experience I have had has served to bless others in one form or fashion. Therefore, it was worth it.
God is there – when you are ready.
He is also there when your loved one is ready.
https://serenityvista.com/
You are not responsible for their habits.
You did not cause them to drink/drug.
Our loved ones need to make their own choice:
By the way, so do you, my dear reader.
When my children tell me about a bad
"mothering moment", I now am ready with a heartfelt response:
"I am so sorry. Don't blame me, you showed up without an owner's manual!"
It may sound trite, but it's true.
We do the best we can at the time with what we have.
None of us came with an owner's manual.
But we have The Manual to learn. God's Word.
Maybe you'll pick it up and try reading it, if you haven't already?
Our series has come to an end. Here is the link to the first post and then you can follow the links to subsequent posts if you like. I hope you have been blessed and encouraged in some small way. Be Blessed my dear reader, Be Blessed!
Scrappy Four Patch Progress
And more to be pressed and sewn up!
So excited!
Finished Tree Hugger
I had mentioned before that I have been taking classes at my LQS this summer. One of them is a PhD class - Projects Half Done!
This beautiful wall hanging for Hoffman is called Sew Into It Tree Hugger by
Cindi Edgerton. It was a previous class and I took it to finish last Saturday.
It was my first paper piecing project and I'm tickled at how it came out!
The tree skirt was a bit time consuming, but worth the effort.
It now hangs in the quilting queue. I plan to use red binding for the finish! Did you notice it would work as an Advent Calendar? I see making the decorations in my future!
Book Date
Reading
My church is taking a break from reading this book for the summer. I finished the Old Testament and will also take a break so that I can read it with my church in the fall. So far, I'm still enthralled with this book! I've read through the Old Testament in this book! Yea!
I have begun regularly reading The High Tide Club. There's a bit of mystery and intrigue that I am enjoying.
I started
Peace in the Valley
by Ruth Logan Herse and am already sucked in. It's interesting to be in the mind of a person struggling with their faith and wondering how in the world this romance will come to be!
Audiobooks
Finished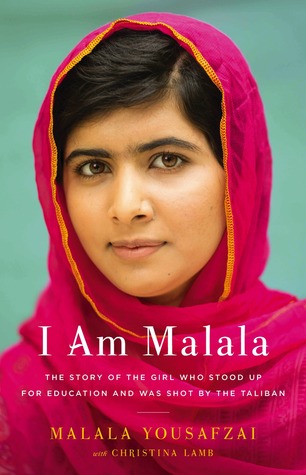 I put off finishing this book because I didn't want to say goodbye to Malala. But, I finished it last night and was not disappointed. I recommend reading this book slowly so you can digest the thoughts and story of this young lady.
Robyn Carr did not disappoint with
Any Day Now
.
Though it is the sequel to
What We Find
, it can be read as a stand alone as well.
I've also decided to stretch a bit and joined the 12th Annual Canadian Book Challenge hosted by Melwyk at The Indextrious Reader!
So, from now until June 30, 2019 I should read 13 books by Canadian authors or about Canada. You can find all the details here. I don't know many Canadian authors, so
this list
is very helpful!
Linking up to