Next Steps with God
After our Still Stitching series, I'm at a bit of a loss as to where to take the Bible section of this blog. So, until God gives me clear direction regarding another series, I will share what I have been learning recently. I hope you are blessed by these sharings.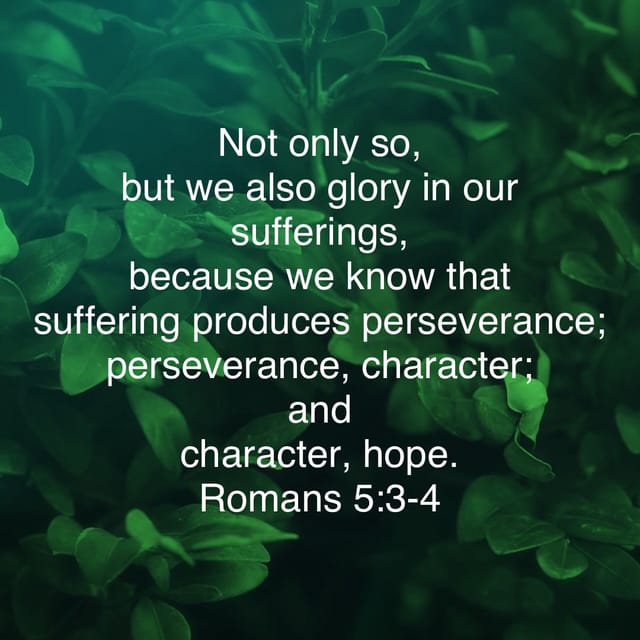 Many years ago, I took this verse quite literally viewing it as a ladder of my spiritual progress during trials.
I would ask myself these questions:
Was I merely suffering?
persevering?
Or was I allowing God to shape my character?
Finally, did I have the hope that does not disappoint/shame?
Late last year, I had lost hope.
It was gone and I had no desire to seek it. I was weak and broken.
Awwwww, but it is when we are weak that we are strong!
My precious LORD and Savior, Jesus Christ, reminded me of my ladder to hope!
I had been merely suffering. Slowly, I began to persevere!
Then I humbly began to accept God's shaping of my character via this simple tool:
#1stitchaday
Slowly, hope returned.
I am again filled with hope and peace!!!! The situation remains largely unchanged, but God changed me!
He can change you as well!
Give Him a try, what do you have to lose?
Machine Embroidery
Guess what? I have a new addition to my sewing machines! I am now the proud owner of a Bernina 560 with the embroidery attachments!
To be honest, I've had it a while, but was waiting for my complimentary Mastery Classes. These are a six-week course which Bernina dealers offer to "master your machine"! Plus, if I need a refresher, I can go back at any time!
Here is one of the first projects I made!
Book Date
Peace in the Valley
by Ruth Logan Herse
As I mentioned last week, I joined the 12 Annual Canadian Book Challenge hosted by
Melwyk at The Indextrious Reader. I found The Silent Wife by A.S.A. Harrison at my local library and will be starting it this week. It seems kind of eerie, but I'll give it a go!
Audiobooks
Finished
I was sad to finish The Time in Between by
María Dueñas
. I miss Sira, the protagonist, so much! This five star book had a great plot, historical facts, fabulous narration, intrigue and a strong female protaginist on top of a fabulous ending. As I was discussing this book with a friend, she told me that the book is a series on Netflix. Yes, you know me. I'm watching it! Ms.
Dueñas has a new fan!
The High Tide Club was an great read that had a bit of mystery, intrigue, romance, and intrigue! Definitely recommend this one!
You can see the list of books I've read over at
Goodreads
! My user name is, of course, Miaismine!
Linking up to