Philippians 2:3-4
Paul is referring to
the dissension in the church in Philippi. He gives solutions to dissension: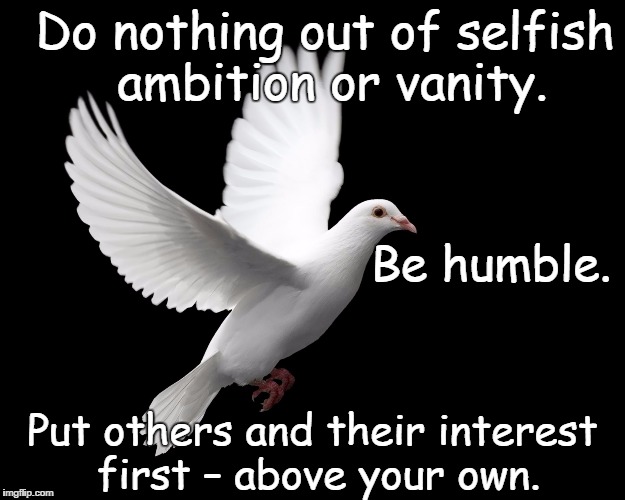 APPLICATION
I recall a conversation with a non-believer who was confused about a teaching about the acronym J.O.Y.
By placing Jesus first, we are in tune with His will for our lives. Consequently we can live our lives confident of His guidance.
By placing others' interest above our own
we become better listeners.
What is this person truly saying?
What truly is their need?
"Let go of your own agenda.
Really listen
to others."
When we ensure that those around us know that their voice is being heard,
stress and tension are eased.
Then, the peace of God that passes all understanding enters.
LORD, as we go into 2017, help us to listen –really hear - the needs of those around us – even if they drive us nuts. Give us discernment and understanding that we may meet needs that are deeper than the surface issues.
Let us become humble servants to all Your children.
By the way, LORD, if I am one of those who drive others nuts, help me to learn grace!
Dear Friends, this is my truth!
Complete! Baby M2's Afghan!
I finally finished Baby M2's afghan!
Here is a bit of the journey.
Step One: a row of dots
Step Two:
Connect the dots! LOL!
Step Three: Connect more dots and add a a mini border
Step Four: Search my go to border book for a cute border.
Step Six: Attache said dots to the afghan and wala!
I used Teresa Chorzepa's Dotty Dots Afghan pattern that can be found on Ravelry with
Lion Brand Modern Baby yarn and I loved it so much that the extra skeins will become another afghan....one day!
UPDATE: 1/5/17
I forgot the Linky Parties!
I'm linking up to Hookin' on Hump Day which is hosted by two sites -