Wednesday's Word
Every New Year I pray for a Scripture for the coming year. This year we were quite busy with Daddy and, to be honest, I forgot about this tradition.
Then, as I was writing Monday's post, I remembered a section of this verse, looked up the full verse and my heart started racing! This was my verse! I love it! I am filled with joy and gratitude for my LORD and Savior! I pray it touches your heart as well!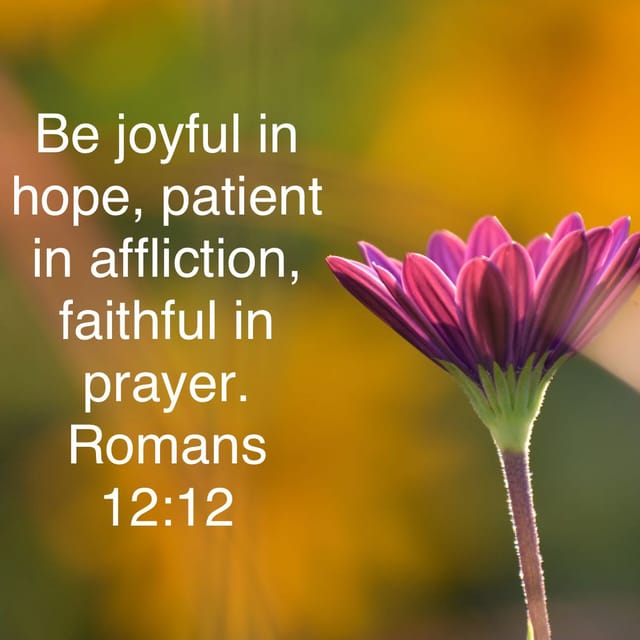 To be joyful in hope is wonderful as the "joy of the LORD is our strength!" As we walk through out trials with joy and hope, patience in our afflictions comes easier. I don't mean we walk around laughing and joking during our afflictions, but we are patiently waiting with confidence that our God will work through our pain as we faithfully pray. We are remembering that all things work together for the good of those who love Him and are called according to His purpose! Romans chapter 8 is filled with promises and can be of great comfort in our afflictions. Perhaps you can take a few moments to read it and be encouraged.
Wednesday Wrap Ups
My next quick wrap up is this vinyl pouch with needle case. It's been a while since I've sewn with zippers or vinyl. My Bernina foot made it a breeze to sew with the vinyl.
Here is the little needle book I made along with the detachable mini pincushion.
I made this little pouch for carrying little extras. If I gently pull on the lamb's tail, out comes a
tape measure! This was a gift from a dear friend.
I use this portable sewing kit for my embroidery projects. Yup, I am finally returning to the first craft I learned as a child. More on that much later.
Pressing On
Last week's goals were:
1. Visit Daddy and Mama.
✔ We had an awesome time together! Daddy said it felt like a "California Day". He was referring to our recent fun-filled trip to San Diego. Even though I missed a sewing class by extending my time with them, I have no regrets. :)
3. Finish up the Fireman Place Mat.
✔ Ok. Confession time: it only took 20 minutes tops to finish this SEVEN YEAR UFO! Seriously? 😊 I cannot be the only person who has been such a procrastinator! Please feel free to share your procrastination story in the comments!
4. Finish quilting the new living room pillow.
✔
I had shared this before, but just had to share it one more time! :)
This week's goals are:
1.
Visit Daddy and Mama.
2. Finish up the last few blocks of Morning Glory.
3. Finish up two blocks for my Stitchers' Garden.
I'll be linking up to:
Your comments are so appreciated! I read each one and will respond by email to you! :)