Thoughtful Tuesdays
I have a new blog to feature for Thoughtful Tuesday. It's Laura Rath's post called Less of Me on her blog Journey In Faith. She shared this phrase: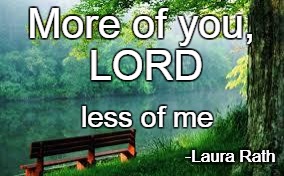 God's timing was perfect...
We all have troubling, personal issues crop up. During a professional conversation, someone said, "...it's not all about them!"
And it hit me.
It's all about our Savior and LORD!
If we pray for
more of Him,
and
less of us,
we can gain clarity and peace.
Laura wrote it so eloquently, I encourage you to visit her post and
be blessed!
Fiber Finishes
How I've missed my sewing studio! We had a joyful reunion this past week and I finished these tea towels!
Just in time for Dia de los muertos (Day of the Dead). This is a time when we remember with warmth and laughter our deceased loved ones.
Here is a closeup of some of the Bingo style trimmings.
The last picture of the miner reminds me of how hard my step-grandfather worked to support his family.
The first picture reminds me of how all of our grandmothers/mothers almost always had a freshly cooked "sopita" (Mexican pasta), beans and chili on the stove whenever we visited!
Crocheted Scarves and Hangers
I finished this cowl for myself in honor of Breast Cancer Month! I used Crafty Begonia's pattern. To make it a bit longer, I chained 36", used double strands of yarn and a K hook.
The leftover yarn (and some stash yarn) combined to make two more crocheted hanger covers!
To Do Tuesday
Last Week's List

Crocheting
Make progress on Prayer Shawl #5 as well as the
Pink Hanger Covers.
Done!
Make progress on the Felt Advent Calendar.
Done!
This weeks list:
Sewing
*Make progress on Prayer Shawl #5
*I really feel like making progress on my Hexagon Afghan.
Slow Stitching
Make progress on the Felt Advent Calendar.
Linking up to